If you've attended an event in the last year, there's a good chance it was held online. In the last twelve months I've logged on for virtual drinks, art exhibitions, workouts, pasta parties, you name it.
Virtual and hybrid events have quickly become the norm across industries, and it looks like that will continue. Pandemic aside, virtual events can be easy to organise and attend, and cheaper to host at scale.
That said, hosting a great virtual event is another thing entirely. I've been pondering this since working with Engage2 to develop a microsite for their first fully-virtual EngageTech Forum.
This post will outline my key learnings about designing engaging digital experiences for virtual events. If you are interested in the event management side of things, Engage2 have published their insights from running the EngageTech Forum.
So, how do you design for a great virtual event?
Make it inclusive.
Digital accessibility has had a lot of buzz lately - and rightfully so - but inclusivity and accessibility are two different things. Chris Burke puts it well: accessibility is the outcome, but inclusive design is the process.
In practice, designing for accessibility means considering all the obvious stuff, like font sizes, spacing, colour contrast ratios, and screen reader-friendly webpage structures. Inclusive design goes a step further to proactively include your participants across the whole process of hosting an event.
Ask people what their accessibility requirements are before designing your event, and make sure these are integrated into your criteria for success. Doing so will ensure that every aspect of your event considers the diverse needs of your participants, and nobody misses out on the full event experience.
Further reading: The Centre for Inclusive Design is doing great work in this space.
Simplify your communications.
Enough with the emails! If you rely on email to communicate with your participants, it's easy for updates to get lost. More importantly, you're missing an obvious opportunity to improve your participants' experience.
Instead, consider putting the important details about your event in one location, where participants can go for up-to-date information, and that you can easily update when needed. Doing so will make it easy for participants to keep track of event details without cluttering their inbox.
My rule of thumb is to only send emails at key touchpoints (e.g. registration, releasing the program, reminders) or when absolutely necessary (e.g. big program changes). For everything else, consider a landing page or microsite.
The direction you take will depend on the amount of content you need to share, and your privacy needs.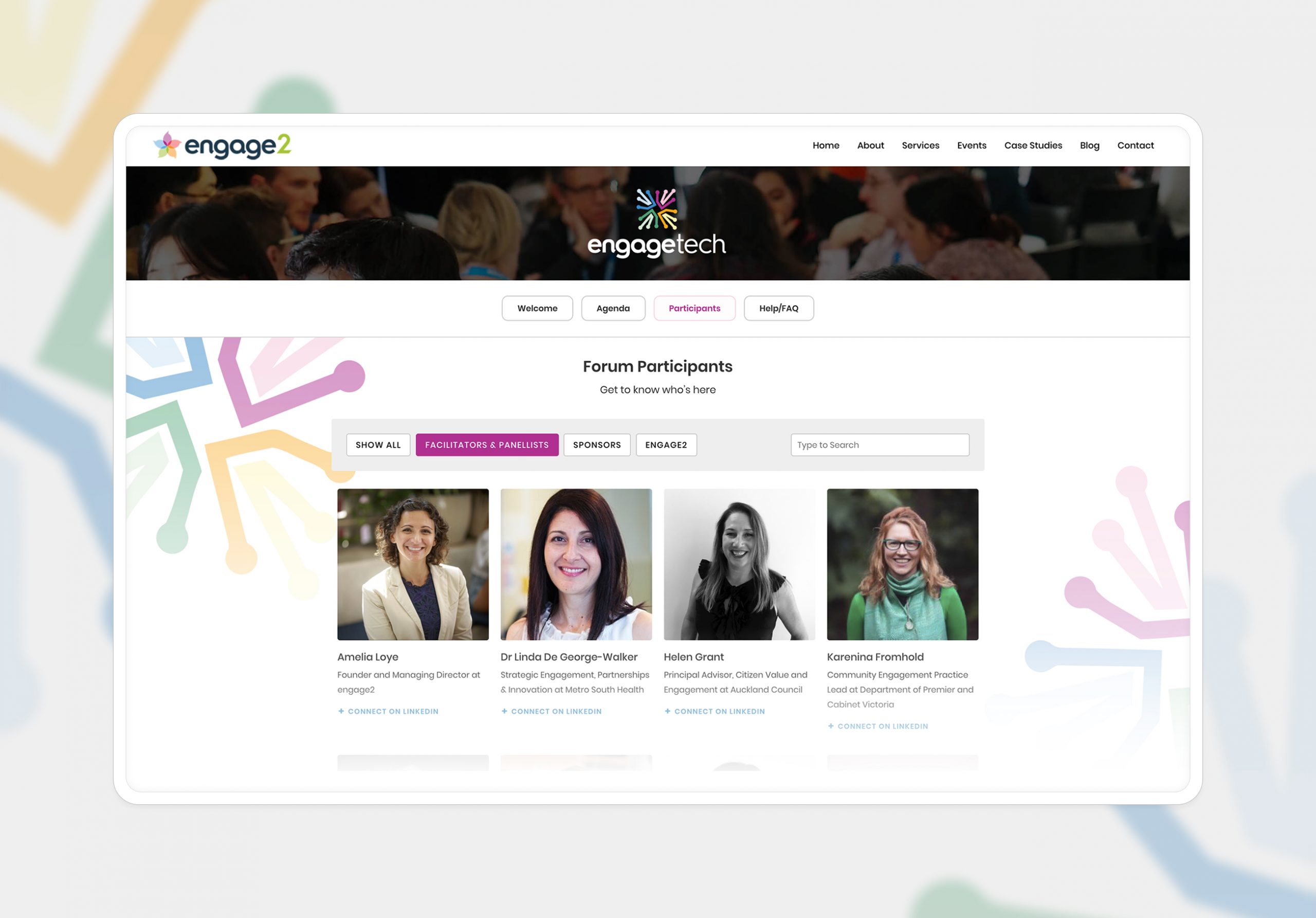 A microsite is perfect for pay-to-access events with multiple sessions or lots of content to share, because they can be made private.
At Engage2, we used our microsite to host a welcome video, interactive agenda, a directory of speakers and participants, FAQs and links to important workshop content. Only ticket holders and speakers could access the site via a unique access link emailed to them prior to the event.
If your event is smaller or open to the general public, consider a souped up landing page. If your event has a single session, a landing page with key links will suffice. The Global Foresight Summit did a great job of this. Their site links to session recordings and gives a brief overview of the event.
NB: Your ticketing platform may already have a solution. For example, Humanitix has a 'virtual event hub' feature that lets you share simple text and visual content with participants once they register for the event. Need a custom solution? Let's talk about microsites, baby!
Get interactive!
There are perks to running virtual events, even if you have no other option (ahem, pandemic). Look for opportunities to utilise digital affordances for interaction, or infuse your program with moments for connection. Here are a few ideas to spark your creativity:
If your participants will need to access other tools during a workshop, like a collaborative virtual whiteboard, linking to them in your event program is a small but thoughtful inclusion. It can be as simple as a hyperlink in a PDF.
Ask participants for simple details at registration and, with their consent, make a participant directory. This is great for industry-specific or networking events, and works like a physical business card would.
Let people get to know each other on their own terms using a tool like Wonder. Set topics and let people move around on their own, instead of forcing them into breakout rooms.
How are you navigating virtual event design? Drop me a line, I'd love to hear from you.